Dental anxiety affects an estimated 30 to 40 million people in the United States. If you are among the many who struggle with fear or anxiety when it comes time to visit the dentist, the office of Oxnard Dental Group can help. We're dedicated to our patients' care and comfort. We offer safe, controlled sedation techniques to alleviate anxiety and make it easier and less stressful to maintain excellent oral health.
If you have dental anxiety or dental phobia, you may find yourself skipping checkups as well as avoiding getting the care you need. However, letting fear get in the way of dental treatment not only takes a toll on your oral health but can also affect your overall well-being. The good news is that sedation dentistry enables anxious patients and those who have difficulty sitting for treatment the benefits of maintaining optimal oral health. By creating a deep sense of calm and relaxation, dental sedation helps ease any fears and apprehension associated with care.
Don't let fear get in the way of maintaining a healthy, beautiful smile any longer! As skilled and compassionate providers of care, we'll explain the types of dental sedation we offer and answer all your questions throughout the course of treatment. In addition to helping you feel completely at ease, sedation typically makes a lengthy procedure feel like it's over in just a few minutes. Although you'll feel fully relaxed while sedated, you'll still be able to respond to verbal cues from our dentist. You merely won't feel bothered at all by the moment-to-moment details of treatment. We'll inform you if the type of sedation you're receiving requires someone to accompany you to the office and home following treatment.
At the office of Oxnard Dental Group, we're dedicated to providing the highest quality of skilled and compassionate care. For more information on our office and the many services we provide, give us a call today.
About dental sedation
Sedation dentistry offers individuals with general anxiety about going to the dentist or fears about a specific dental procedure the opportunity to have a stress free and more comfortable experience. By utilizing safe and controlled sedation techniques before a dental procedure, the patient is eased into a state of complete relaxation. This step eliminates any discomfort, pain, and preoperative anxiety that may be associated with a particular dental visit. With sedation dentistry, patients typically feel more at ease post-operatively as they have little or no memory of the actual moment-to-moment dental procedure.
At the office of Oxnard Dental Group, we are committed to creating a comfortable and caring environment for our patients. While we always use a local anesthetic to thoroughly numb the treatment area so that patients do not feel any discomfort, some individuals may feel they need an additional option to reduce their anxiety and have a more relaxed experience. For these patients who are apprehensive about dental work or a particular procedure, we'll discuss safe and effective options in dental sedation.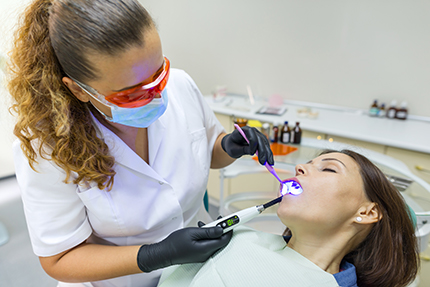 Reasons to consider dental sedation
While the reasons for choosing dental sedation can vary, some of the more common explanations include the following: 
Dental phobia - Sedation dentistry offers an excellent solution for patients whose fear of seeing the dentist is so disabling that they are otherwise willing to forego care. 

Anxiety about a particular procedure - Sedation dentistry offers patients who feel anxious about specific procedures a more positive and stress-free treatment experience. 

Extensive dental work - When extensive dental work requires patients to sit in the chair with their mouths open for long visits, sedation dentistry can help ensure greater comfort while making time seem to pass more quickly. Sedation dentistry also offers patients who cannot make multiple trips for care the option of getting more work done over fewer visits.

Powerful gag reflex - For patients with a strong gag reflex, it can be as uncomfortable for the patient to tolerate care as it is difficult for the dentist to provide it. With sedation, the patient is comfortable, more relaxed, and can tolerate treatment without gagging.

Sensitive teeth and gums – Even if the work does not involve a particular tooth or area of the mouth, for patients with hypersensitive teeth and gums, getting dental treatment with instruments, suction, a water spray, and other stimuli can feel terribly uncomfortable. In these cases, dental sedation can help provide a much more comfortable treatment experience. 

Difficulty sitting for dental work – In addition to dental anxiety, it may be difficult for some young children or patients with disabilities, special needs, cognitive impairment, or certain medical conditions to sit still for dental care. Dental sedation enables the delivery of care to provide routine treatment and alleviate dental problems to maintain optimal oral health.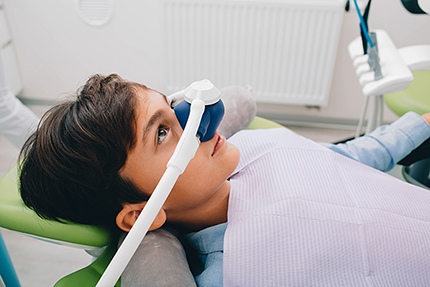 What are the options for dental sedation?
At the office of Oxnard Dental Group, we provide skilled, experienced care that's tailored to the individual needs of each patient. Our dental team strives to make every visit to our office a positive and informative experience. Depending on a patient's specific needs and relevant medical history, we'll discuss the most appropriate method of dental sedation and the services our office provides.
The difference between conscious sedation and general anesthesia
It's essential to understand the difference between the methods of conscious sedation performed in a dental office and general anesthesia provided in a hospital setting. For most patients that choose or require dental sedation, conscious sedation will suffice.
With conscious sedation, a patient experiences greater comfort and relaxation during a dental procedure while remaining aware of verbal commands and responsive to specific stimuli. Breathing is unassisted and cardiovascular function remains stable. On the other hand, general anesthesia puts patients in a deep state of sleep where they are not responsive to stimuli. General anesthesia is reserved for patients who cannot tolerate the provision of care with any other form of sedation and is administered by an anesthesiologist in a hospital setting.
Conscious sedation in the dental office
Every patient is unique. The method of conscious sedation selected depends on a patient's specific needs, relevant medical history, and the extent of required dental work.
While all types of conscious sedation allow the patient to relax and feel comfortable during a dental procedure, the level of sedation differs depending on which of the following methods is employed.
Inhalation sedation (Nitrous Oxide or "Laughing Gas")

Commonly referred to as "laughing gas," nitrous oxide is used as a mild sedative to reduce anxiety and facilitate relaxation during dental procedures. It's inhaled through a small mask over the nose and administered for optimal safety in combination with oxygen. Used for the duration of a dental procedure, nitrous oxide gets turned off as work comes to an end. Once the laughing gas gets turned off, the effects wear off very quickly, and the patient returns to a state of complete awareness. Beyond addressing mild to moderate anxiety levels, inhalation sedation can help reduce gagging in patients with a strong gag reflex.

Oral Sedation

Oral sedation offers a relaxed and comfortable experience with little to no anxiety. With this method, patients are given a prescription for an oral medication before their appointment. When taken at the recommended time before their visit, this medication allows patients to feel entirely relaxed by the time their procedure begins. With oral sedation, a patient must have an escort on the day of the procedure to drive them to and from the dental office.

IV Sedation

IV Sedation involves a sedative that is administered intravenously or directly into a vein. It is indicated when more profound sedation is required. This type of sedation starts to work very quickly and can get readily modified to regulate the patient's state of consciousness as well as continued for as long as the procedure requires.

IV Sedation requires an empty stomach. Patients receiving this type of sedation will be instructed how many hours in advance of their surgical procedure they should stop eating or drinking. In addition to this, patients receiving IV sedation will need to have an escort present for the appointment and on hand to drive them home when the visit is completed.